Slide 2
We offer highly specialized treatments to facilitate wellness and optimize function in the most efficient way possible.
Fort Whyte Physiotherapy has opened up a new clinic in the heart of Tuxedo at 2090 Corydon Avenue. Together, in partnership with Complete Fitness, we welcome you to visit our unique clinic and training facility that provides you with extra attention to detail in treatment and exercise.
About Us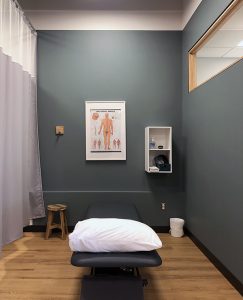 Our goal is to get you back doing what you love in the most efficient way possible. We achieve positive lasting results using  Manual Therapy, Acupuncture, Intramuscular Stimulation, Dry Needling and Exercise Prescription. Our number 1 priority is patient satisfaction and providing a positive environment where you feel informed, educated and in control of your recovery process.
The Fort Whyte Physio Advantage
Fort Whyte Physiotherapy will use the best treatment approach for your specific needs. These include therapies such as a Manual Therapy, Exercise Instruction and Prescription, Deep Tissue Massage, Cupping, Kinesio Tapping, IMS, Dry Needing and Acupuncture. 
Physiotherapy is a direct access health care profession. You do not need a referral from your Physician to make an appointment with a Physiotherapist.